Most couples would agree that the one thing they want more of is time spent together. If that's what you've been thinking lately, maybe it's time to look at booking your next getaway together in Whistler. Time in the mountains with your significant other is the perfect way to reconnect and simply enjoy each other's company. Even if you don't have a week or two to spare, a three day holiday in Whistler is enough time to mentally and physically escape with your partner. For inspiration, we curated our ideal three day holiday in Whistler to share with you.
Where to Stay
For the ultimate couples getaway, we recommend staying in the heart of Whistler village. This will keep you close to all the action, dining, and offers accommodations that are ideal for two people. Here are our top 3 recommendations for the Main Village:
Carleton Lodge 304 – This 2 bedroom is a beautifully designed apartment with a modern idiom, situated right in the heart of Whistler Village. The gondola is a mere 30 second walk away, and you'll be within walking distance to shopping, dining, and nightlife.
Hearthstone Lodge 14 – This two bedroom condo is newly renovated and even has a private hot tub, perfect for relaxing in the evenings. Hearthstone Lodge is directly above the liquor and grocery store, so you'll never be short on amenities. This unit is also in the middle of Whistler Village, so you'll be right in the middle of all our recommendations.
Carleton Lodge 206 – Located in the same lodge as Unit 304, this is a great option if you want a one bedroom for your Whistler getaway. This beautifully renovated unit is stylish, spacious, and comfortable, all you need for a couple's getaway.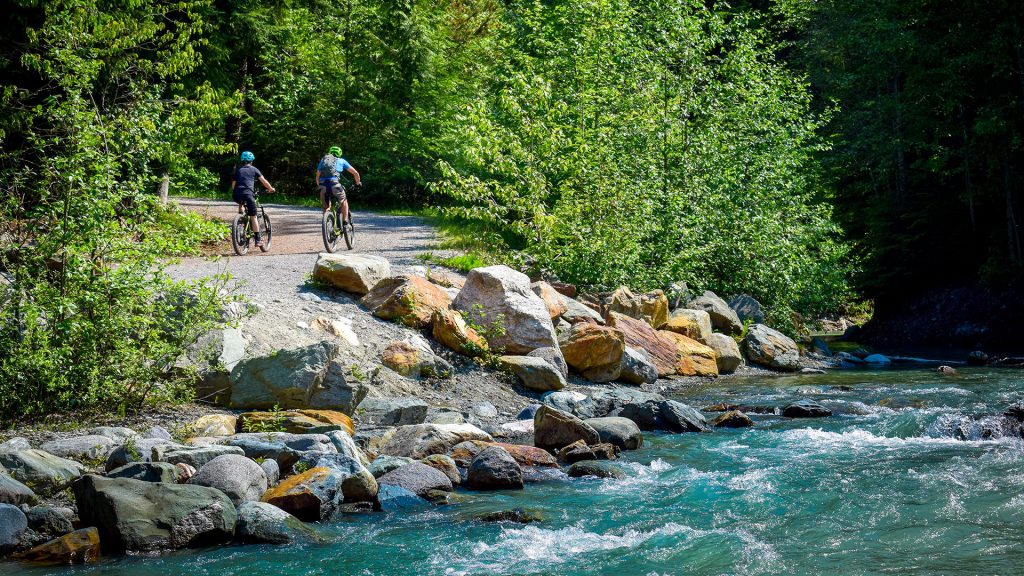 Day 1
Because you're probably going to want to stretch your legs after travel, we recommend starting the trip out with a scenic E-bike tour with the guiding company, Escape Route. Before you start your morning tour, grab handhelds and coffees from Lift Coffee Co, right in the Main Village. On your guided E-bike tour, you'll be able to see the stunning views in the valley of old growth forests, lakes, and trails.
After your cruise around the valley, you might as well experience the polar opposite and see stunning alpine vistas. You can walk from Escape Route to the Blackcomb Gondola, which delivers you to your ultimate mountain top dining experience at Christine's on Blackcomb. After a decadent lunch, you can take the Peak to Peak Gondola over to Whistler mountain to explore all there is to offer on Whistler. Enjoy alpine hikes or the snow walls, which you can find more information in our blog here. What's even better, at the end of your day on the mountain, you'll be delivered only seconds away from your accommodation via the Whistler Village Gondola download. All 3 gondolas are included in your sightseeing pass, and we'd be more than happy to help you organize this through our concierge.
After a packed first day and an already decadent lunch on top of Blackcomb Mountain, we recommend a more casual dining spot for your first night. We recommend going to Stonesedge Grill, located in the heart of the Village, for quality food, drinks, and a comfortable atmosphere. Stonesedge is a local's favourite and has a large outdoor patio glittered with lights for a beautiful evening out.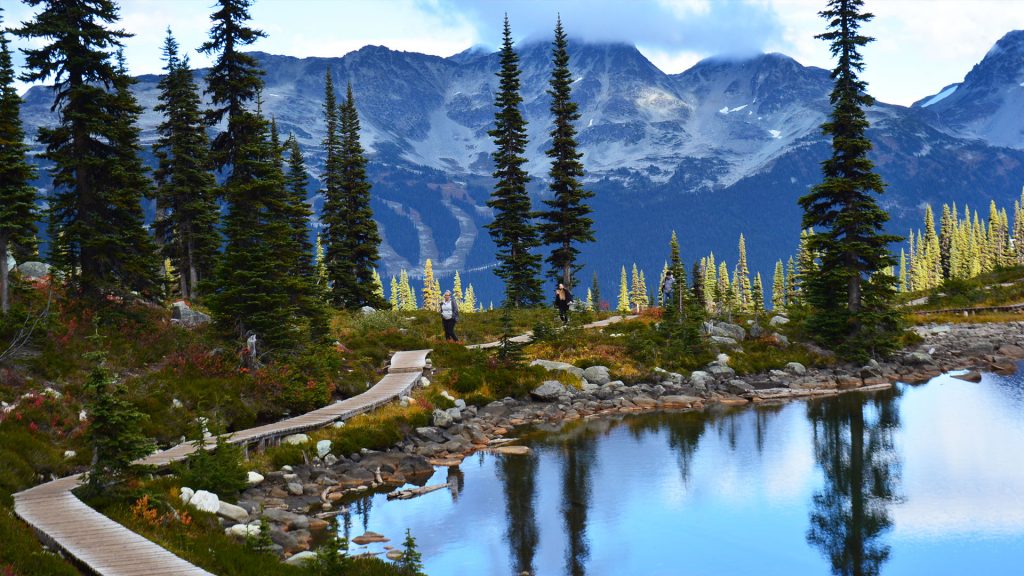 Day 2
Time to go even higher than the alpine for day 2. Start your day at Green Lake for an experience that will leave you wide-eyed and giddy. We recommend a scenic float plane tour with Harbour Air Seaplanes, alpine lake landing included. You'll be flown over beautiful mountain peaks, lakes, and valleys, getting a true bird's eye view of the Whistler area. After you glide into your landing on Green Lake, you can walk over to Nicklaus North Golf Club for lunch on the best patio in Whistler.
After lunch, enjoy a little friendly competition while you hike around Lost Lake and test out the Disc Golf Course. This is a great way to get some exercise, test out your throwing arm, and see a more off-the-beaten-path view of Whistler. You can access the start of the course at Spruce Grove Park, close to Nicklaus North Golf Club, and find out more information here.
For dinner, we recommend turning your meal into a true excursion. You can take a Jeep 4×4 or ATVs up Blackcomb Mountain for a traditional salmon bake dinner with Canadian Wilderness Company. This evening will be sure to be one of your favourites, as the combination of adventure, dining, and stunning views is unbeatable. Allow us to make it even easier, and our concierge can set up this evening for you.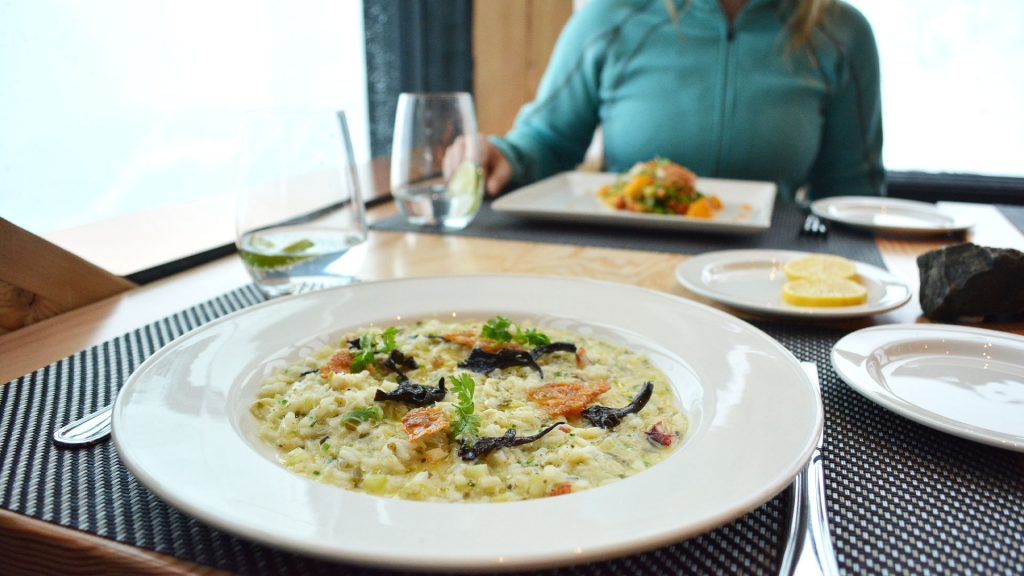 Day 3
Ah, it's the last day, but the fun isn't over. After two jam packed days of sightseeing and taking the views of Whistler in, it's time to rejuvenate and relax. Our ideal last day starts off with a healthy breakfast at Naked Sprout in the Village. After this, get ready to be pampered at the Scandinave Spa. The Scandinave is known for their traditional hot and cold baths, but we recommend booking a massage as well, since the baths come included with this relaxing treatment. Kick back and spend as much time as you need here, literally washing away sore muscles and modern tensions.
To cap off your ultimate 3 day Whistler excursion, we recommend our favourite bar and restaurant for the finale. After getting freshened up after your relaxing spa day, walk over to Bar Oso in the Main Village for tapas and delicious cocktails. If Spanish-influenced small plates, tapas, and house-made charcuterie makes your mouth start to water, this is your spot. Pair it with hand crafted cocktails and you might just be in heaven. After indulging at Bar Oso, head over to Basalt for the main course. Locals and visitors alike love the casual atmosphere, contemporary vibe, and the west coast alpine cuisine. The innovative menu, perfectly paired with BC wines will leave the ultimate final impression of Whistler on you. We are sure that you will already be planning your next vacation to Whistler on your stroll back to your cozy village accommodation after dinner.
We hope this 3 day guide inspires you to take in the best that Whistler has to offer and enjoy our beautiful mountain town. You can book your accommodations online here, or contact our concierge to help you plan your ultimate vacation in Whistler. We are happy to help you plan your best vacation yet, in the town we call home.