Coming to Whistler with your kids? You won't be disappointed with the wide variety of places to stay, eat, and variety of options to keep the little ones entertained in this winter wonderland. To make planning even easier, we've listed our favourite rentals to stay with little ones, places to eat, and kid activities that run all winter long, so you can pick what week works best for your family and know everyone will have plenty to do. We've even added a few tips for packing to make sure you show up with all the essentials.
Where to Stay
We have multiple locations around Whistler to choose from when looking to book your vacation rental, but we have two specific areas in Whistler we deem prime for traveling with children: The Benchlands and Village North. Easy access to all the essentials: free transit, proximity to the slopes, grocery stores and restaurants.
The Benchlands
Located directly above the Upper Village, you'll have the added perk of being able to ski in and out of your rental home every morning onto Blackcomb Mountain. We love this spot for effortless access to the mountain, and the quiet backdrop of the mountain and Upper Village provide a family friendly setting for cozy card games at night and early bedtimes for the kids. Getting to the Main Village by free transit or car is quick and easy for groceries or any of the kid-friendly activities we've listed below. Click on the links to view our suggested rentals:
Village North
Tucked away within walking distance of the Main Village, and featuring a free shuttle to the ski lifts, Village North allows you to partake in the energy of the village, as much or as little as you want, with ease. This location is ideal for kids by having everything close by without being directly in the bustle of the Main Village. Click on the links below to view our suggested properties for families:
Where to Eat
We've put together a list of our favourites for dining with kids in Whistler. We focused on sharing eateries with healthy options that won't break the bank, and have easy access from the Main Village. If you want to take a deeper look at the menus of our recommendations, just click on the name of the restaurant below. Here are our top five suggestions: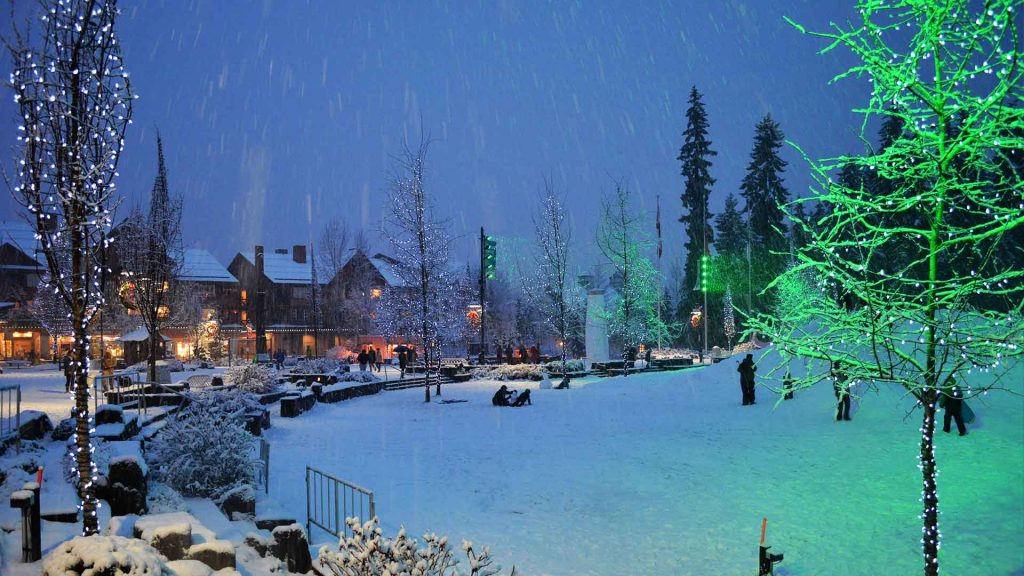 What to Do
Whistler Village turns into a children's playground in the Winter, filled with unlimited activities to do throughout, no matter what week you visit. Here are a few examples of ways to keep the little ones entertained, all while making memories that will last them a lifetime.
Family Après in Whistler Olympic Plaza
Après isn't just for the adults of Whistler. The Whistler Resort Municipality and Province of BC have teamed up to offer free entertainment every Wednesday and Friday from 3 – 6pm throughout the winter in the Olympic Plaza. There will be plenty to keep the kids entertained while catching up with fellow skiers over a warm beverage. Family Après offers kid-friendly entertainment, ice skating in the plaza, activities, and more. The snow covered and ornately lit Olympic Plaza is the perfect backdrop for a fun filled afternoon post skiing, all for free.
Ice Skating
Being a favourite Canadian pastime, a vacation to Whistler in the Winter wouldn't be complete without a trip to the ice rink. You can enjoy free admission to the outdoor rink at Olympic Plaza in the Village (weather permitting) with skate rentals only costing you $6. If the weather isn't prime for outdoor skating, head over to Meadow Park Sports Center to take advantage of a NHL size skate rink. Hours vary throughout the season, so check Meadow Park's website for more details.
Snow School
Everyone wins when the kids sign up for Whistler Kids Snow School. You can enjoy a day yourself on the slopes or take a break at the Scandinave Spa, all while your kids are in good care with the qualified instructors of Whistler Blackcomb. Whether your children want to improve technique or simply have a fun day skiing or boarding with kids their age, WB offers private and group lessons, as well as camps. We recommend booking early for this adventure, as there are limited spots available throughout the season.
Winter Scavenger Hunt
Who doesn't love a good scavenger hunt? Whistler Village put together an educational scavenger hunt to keep you and the kids entertained for hours. Complete it on a rest day from the mountain, or use it throughout the week to fill in downtime between the many activities available in Whistler for kids. Download the PDF on your phone, and let the games begin!
Escape! Whistler
Tired from a week filled with outdoor activities? We've got you covered. Take the kids to Escape! Whistler for an afternoon or evening indoors to engage in a real-life gaming experience. This is an interactive indoor family activity, where you'll work as a team to escape from different scenarios, challenging your brain by solving riddles and puzzles. They offer four different escape room adventures, ranging in difficulty from beginner to advanced. Try out the beginner room with your little ones and watch their imagination come alive! Check out their website for more details and booking.
Key Things to Pack
Make sure your ultimate family ski holiday goes off without a hitch with our packing guide for kids. Spending time on the front end with careful packing will mean more time for making memories, not scrambling to go shopping for the little ones. Here's our go-to list for families traveling with kids:
Outerwear – Pack warm, waterproof jackets and pants for everyone in the family. Whether the kids are skiing or not, these will even come in handy walking around the village when it's dusted in snow.
Base Layers – These are essential to keeping the kids warm, dry, and happy. Proper base layers will have moisture wicking properties to ensure everyone (including you) will stay dry even when you work up a sweat on the hill.
Gloves – You know they won't be able to resist making a snowball walking through the Village, so make sure their hands are covered with waterproof gloves or mittens!
Snow Boots – These will be ideal for stomping around the snow in the Village, or if you spend a day at the Tube Park.
Swimsuits – In case you book one of our beautiful rentals with a hot tub, or want to splash around at the Meadow Park swimming pool, toss a couple suits in their bags.
Hats – Keep their head and ears warm while they skate laps around you at the Olympic Plaza rink.
Helmets – Keep everyone safe on the slopes, and don't forget to set the example and bring your own.
Goggles – This simple accessory will make a day on the mountain much more enjoyable. Skiing is always more fun when you can see where you're going.
Hand and Foot Warmers – These little pouches of warmth will keep the kids (and you) more comfortable in the colder temps. Happier kids means more time spent on skis!
Let us continue to help you plan by booking with us today at www.holidaywhistler.com and take advantage of our concierge services. We can help you secure your perfect vacation rental, as well as set up any activities for you and your family. We even offer special, discounted rates when booking your lift passes or ski and board rentals through us. Specific questions or just want to book over the phone? Call us at 1-877-697-7776.