A family ski trip to Whistler is a great way to build memories together. You'll never forget the days you spend watching your kids discover a love for the mountains. When planning your vacation, it can be hard to know where to start. To help you plan an unforgettable vacation we've put together some of our best tips and intel for you to have your best family getaway yet.
WHEN TO VISIT
We love to recommend families to visit in the spring for a multitude of reasons. The warmer, longer days and bluebird skies will not only make for favorable ski conditions, but they'll keep the family skiing out all day. When the kids (and you) are comfortable and warm skiing, the chances of lasting longer on the slopes dramatically increases. It's also the perfect chance to take advantage of the kid's time off for Spring Break. The Village and ski slopes are alive with an excitement of warmer weather to come, all while reaping the benefits of snowy backdrops and great ski conditions.
WHERE TO STAY
Staying close to Whistler Village for a family ski trip makes mornings easy, giving you quick access to the slopes. Not to mention, close proximity to the Village is perfect for a quick change at the house before heading to dinner. The Benchlands is optimal for this routine, as most all units are ski in/out to Blackcomb mountain, and an easy walk or free transit ride to the Village. If dinner in the Village sounds a bit too busy for you, we've included some rental recommendations with kitchens that fit the whole family. Here are our top suggestions and why we love them:
Cedar Ridge 17 – Sleeping 10 people, this home includes bunk beds for kids, a large kitchen for family dinners, and a hot tub everyone is sure to enjoy. Not to mention, ski in ski out for easy access to ski school in the morning.
Treeline 7 – Catch the free shuttle in the morning to the slopes, and ski directly to your door in the afternoon for hot chocolate and a hot tub with the family.
Cedar Hollow 11 – Situated under the Excalibur Gondola, this prime location offers ski in and out, and plenty of room for extended family to visit. Walking distance to the Upper and Main Village, this location is one of the best.
WHAT TO DO
For a family ski trip to Whistler, you won't be short on activities to keep the entire family entertained. We've listed some of our favourites that everyone in the family can enjoy.
Snow School
Everyone wins when the kids sign up for Whistler Kids Snow School. You can enjoy a day yourself on the slopes or take a break at the Scandinave Spa, all while your kids are in good care with the qualified instructors of Whistler Blackcomb. Whether your children want to improve technique or simply have a fun day skiing or boarding with kids their age, WB offers private and group lessons, as well as camps. We recommend booking early for this adventure, as there are limited spots available throughout the season, so email us at info@holidaywhistler.com for reservations.
Ice Skating
Being a favourite Canadian pastime, a vacation to Whistler in the Winter wouldn't be complete without a trip to the ice rink. You can enjoy free admission to the outdoor rink at Olympic Plaza in the Village (weather permitting) with skate rentals only costing you $6. If the weather isn't prime for outdoor skating, head over to Meadow Park Sports Center to take advantage of a NHL size skate rink. Hours vary throughout the season, so check Meadow Park's website for more details.
Dog Sledding
Pure fun for the entire family, dog sledding in Whistler is an experience your family won't forget. Enjoy beautiful old growth forests and stunning alpine views as your trained musher and pack of pups lead you on this experience. Don't forget your camera for the views, but also, the family won't be able to resist adorable photos with the beautiful sled dogs. Call us at 1-877-697-7776 to secure your reservations today.
Snow Tubing
Looking for something to do when the legs are a bit too tired from all the skiing? Snow tubing is a great activity to do in the evening or on a rest day from the slopes. It's also a great way to spend time as a family if you have children who are a bit too young to ski or haven't fallen in love with mountain sports yet. No skills required, just the spirit of adventure and you're ready to go.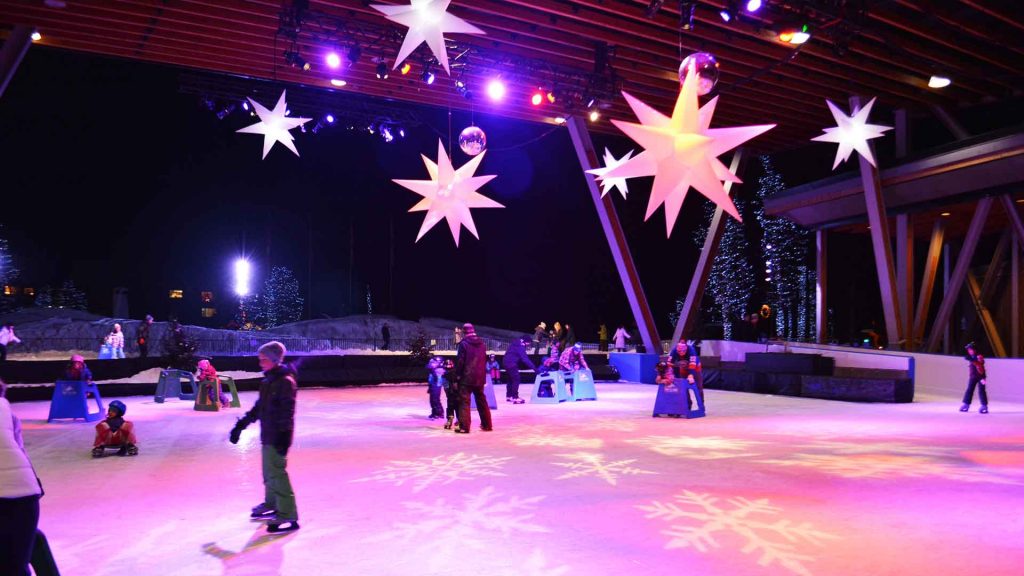 WHERE TO EAT
A family ski trip to Whistler wouldn't be complete without delicious dining. Swapping stories from the day over a shared meal as a family is a special way to connect after a big day on the mountain. We have a few options to help you create this experience, whether you go out to eat or stay in and dine at home.
1. The Old Spaghetti Factory – Known for its family atmosphere and fresh food at reasonable prices. This Italian style restaurant is one the whole family can enjoy. Located in the heart of the Village, it's easily accessible after a day on the slopes.
2. Whistler Dine-In – We know the feeling. Long and exhilarating day on the slopes, and the last thing you want to do is cook or go out for dinner. Whistler Dine-In is a delivery service, offering you options from over 20 local restaurants in Whistler, delivered straight to your door. Cozy up with the family and let a chef do the cooking for you.
3. IGA – If cooking together as a family is what you look forward to, grab groceries from the Marketplace IGA and use the full kitchen provided in many of the units we offer for rent. Here's a few of our suggestions for families who want to cook at home together: Horstman Chalet 4, Cedar Ridge 12, and Snowgoose 22.
OVERALL TIPS
1. Book early and save – Not only will you lock in the best rates, but booking early will give you the best choice of options for accomodation, lift passes, rentals, and snow school.
2. Set your alarm and get up early on ski days – Stay ahead of the crowds by getting up a bit earlier and in line by 8am.
3. Put your kids in ski school – They will improve their skills, make new friends, and enables parents to spend a ski day together.
4. Make dinner reservations – If you do want a night out in the Village together, make sure you plan and call ahead to secure your table.
Let us continue to help you with your planning by booking with us today at Holiday Whistler and taking advantage of our concierge services. We can help you secure your ideal vacation rental, as well as set up any activities for you and your family. We even offer special, discounted rates when booking your lift passes or rentals through us. Specific questions or just want to book over the phone? Call us at 1-877-697-7776.