There's nothing better than getting away from it all with a group of your best girlfriends, except maybe taking your girls trip to Whistler. Friendships are strengthened, new experiences created, and you're sure to go home with memories you all will share for years to come. Whether you're going away for a new bride-to-be, celebrating a birthday, or just getting away for the sake of going, we've created our local's guide to help you make the most of your girls trip.
Space for Everyone, Walking Distance to Everything
For the ultimate girls trip to Whistler, we love the idea of staying in or near the Main Village. We have several featured listings that are all within a short walking distance to shopping, restaurants, and nightlife. No need to take taxis or hassle with parking when you're this close to the action. We also love these units because they have tons of space for everyone. Not only are there plenty of beds for sleeping, but large living and dining areas for bachelorette games, cooking together, and making cocktails before going out for the evening. Here's a few of our favourite rental homes close to it all:
Northern Lights 33 – This large home is just above the Main Village with a spacious living and dining area, five bedrooms, and four, yes four, bathrooms. This rental has plenty of room for cooking, relaxing, and getting ready for the day. You'll even come home to a hot tub on your private deck for the ultimate cherry on top.
Telemark 25 – Located right next to the Westin, this home is another ideal spot for a larger group of ladies. Plenty of space for cooking and hanging out, but right next to the Main Village, so all the amenities are at your fingertips.
Carleton Lodge 304 – If you don't want to miss a beat of the action, this rental property is right in the middle of the village and ideal for a group of 6.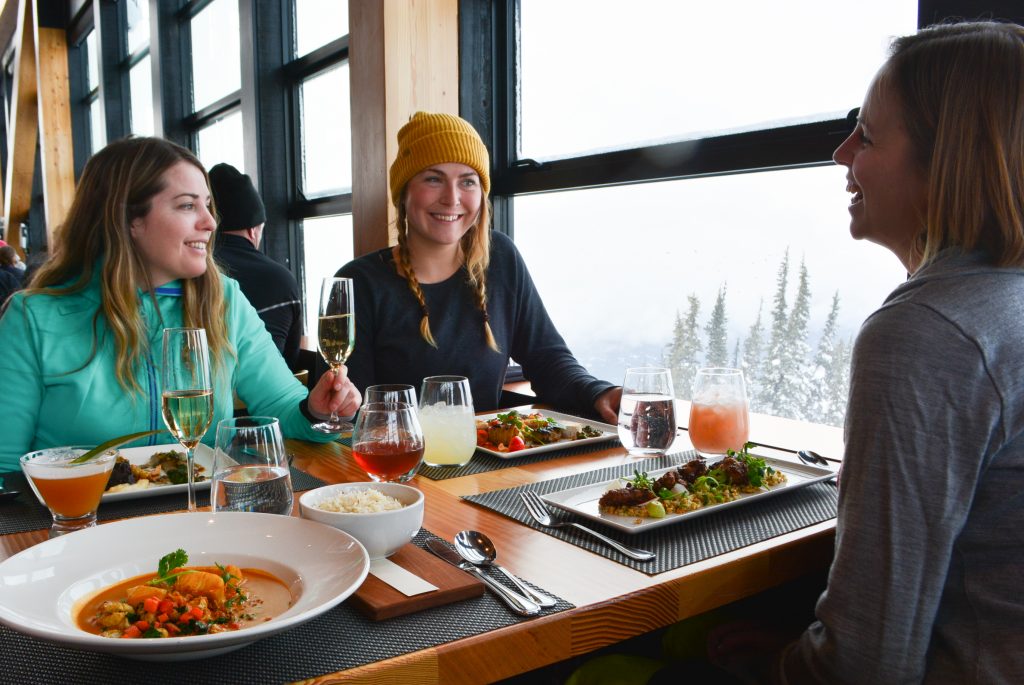 Party Time
What's a Whistler girls trip without a little nightlife? We came up with a few of our favourites, surely to please anyone in the group. Whether you want to dance the night away or simply go out for handcrafted cocktails and call it a night, there's something for everyone in Whistler. Check out a few of our suggestions:
Bar Oso – If expertly crafted cocktails, Spanish-influenced small plates, tapas, and house-made charcuterie makes your heart skip a beat, head to Bar Oso on your girls getaway. It's the perfect spot to show off your new dress and enjoy delectable dishes.
Basalt – West Coast Alpine cuisine, paired with a BC centered wine list, Basalt is a locals and visitors favourite for apres and dinner. An eclectic and delicious menu, paired with a casual atmosphere makes Basalt a must-do for your trip.
Dubh Linn Gate – If you're looking for comfort food, a few pints, and live music, this is your spot. We love Dubh Linn for a fun, casual afternoon or evening out. Located at the base of the lifts, the large patio is perfect for sitting in the sun and taking in the views.
Dance Clubs – Ready to pull the stilettos out and tear up the dance floor? Try out any (or all) of our local dance clubs: Maxx Fish, Buffalo Bills Bar & Grill, Garfinkel's, or Moe Joe's.
Get Pampered
A spa day with the girls sounds stereotypical, but we think it's that way for a reason. It's hard to beat being completely indulgent and getting pampered with your best friends. For the ultimate spa experience for facials and massages, try out the award winning Spa at Nita Lake Lodge. Their luxury spa will feel like a true oasis to help you melt away the tensions of life. If you'd rather not leave the comfort of your own luxury rental home, we offer in-home massages through our concierge services. Our experienced masseuse or masseur will bring the spa to you, no need to leave the house.
If you're looking for something a little different, try Scandinave Spa, a local favourite. The main draw to the Scandinave is it's traditional hot and cold bath experience, perfect for rejuvenating the body and the mind. For those who want to be more hands-on with their relaxation, check out Yogacara in the village for a variety of yoga classes. A peaceful space, 15 student cap, and luxurious heated floors creates a perfect environment to help you practice with a clear mind and leave feeling restored.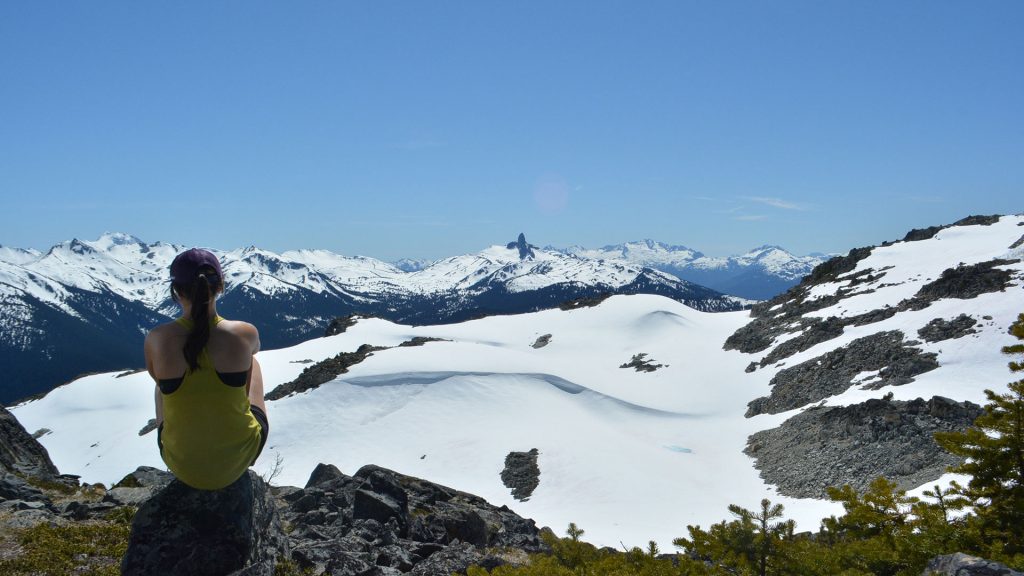 Explore
Whistler is one of the most beautiful places in the world (okay, we might be a bit biased), and it would be a waste to not take in the picturesque scenery it has to offer. Don't worry if everyone in your group isn't a hardcore athlete, there are plenty of options to take in the vistas without breaking a sweat.
Take the Gondola
You can hike up Whistler and Blackcomb Mountain, or you can take the network of gondolas to take in all the views in a single afternoon. We recommend going up Whistler Mountain, taking the Peak Chair to the new Suspension Bridge, then cruise on over to Blackcomb Mountain via the Peak to Peak Express. You can experience fine dining at Christine's Restaurant on Blackcomb Mountain before heading back across the beautiful valley and down Whistler Mountain. This is a must do for your trip!
The Snow Wall
For a unique Whistler experience, grab your trail shoes and head up the mountain to experience the Snow Wall. You'll take the Gondola and Peak Chair, then meander down Matthew's Traverse and Pika's Traverse to walk amongst giant walls of snow. You'll convienently end the walk at the Roundhouse Lodge, perfect for a snack and drink before heading to the village. This easy walk makes for spectacular photos and a fun afternoon for anyone.
Lakes
Summer in Whistler wouldn't be complete without a trip to the lakes. Grab a few rental bikes from one of the numerous shops in town, and take a tour of Whistler's beautiful lakes. We highly recommend Green Lake, Lost Lake, and Alta Lake.
Hiking
If your ideal girl's getaway involves building up a little sweat equity, try out any of our local hikes. You'll have plenty of options on Whistler and Blackcomb Mountain whether you're a beginner or experienced hiker. Check out the trail map here to start planning your routes. Alpine hiking is a perfect activity for a sunny afternoon in Whistler, and don't forget your camera!
ATV Rides
For the adventurous types, an ATV ride with Canadian Wilderness Company is a must do. They offer everything from beginner friendly to advanced rider tours. You can even book a unique dining experience with them and enjoy a fresh, salmon dinner at Crystal Hut on Blackcomb Mountain, completely self propelled by your own ATV.
Get Culture
If your ideal girls trip includes art and culture, Whistler delivers. For a hands on art experience, try Paint and Sip for a creative girls night. You can sip wine while you have a talented, local artist guide you through a painting lesson. If you'd rather sit back and enjoy what other artists have created, head to the Audain Art Museum for a thought provoking and inspiring afternoon. A beautiful building in and of itself, inside you'll continue to find beauty and originality through the permanent and rotating installations from BC artists.
Looking for the ultimate dinner and a show? The First Nations Summer Feast at the Squamish Lilwat Cultural Center is an evening you'll never forget. You'll be entertained all evening by local First Nation performers while dining on locally sourced, traditional fare. For those so inclined, you can pair Indigenous World Winery wines or local BC craft beer with your dinner.
We hope this list inspires your girls getaway in Whistler this summer! If you need help with booking your ideal accommodation or setting up any reservations through our concierge service, please email us at info@holidaywhistler.com or call us at 1-604-932-2038.