Whistler in the summer is one big mountainous playground for your kids. You'll love the wide variety of places to stay, eat, and options to keep the kids entertained in this mountain paradise. To make planning even easier, we've listed our favourite rentals to stay with little ones, places to eat, and kids activities that run all summer long.
Where to Stay
We have multiple locations around Whistler to choose from when looking to book your vacation rental. However, we have two specific areas in Whistler we deem prime for traveling with children in the summer, the Main Village and the Benchlands. You'll have easy access to all the essentials: free transit, proximity to the lifts, grocery stores, and restaurants.
Main Village
If your family vacation is all about not wasting a minute of seeing Whistler, we recommend staying in the Main Village. You'll be in the middle of all the action and within walking distance to everything. We've included units large enough for big families, with plenty of space to cook and relax, as well as a smaller family units in the heart of the village. Just click on the links to learn more:
Northern Lights 21: A spacious 4 bedroom home that sleeps 9 and has its own private hot tub. It's located just above the Main Village with quick access to the lifts, restaurants, and perfect for those driving to Whistler, as it comes with 2 parking spaces.
Telemark 25 – This 4 bedroom home sleeps 9 people, and is a 2-3 minute walk to the Whistler Village Gondola. Fully renovated in a modern idiom, this is the perfect example of a luxury mountain home.
Hearthstone Lodge 19: A 2 bedroom condo, sleeping 6. It's the ideal village centre condo with a private hot tub.
Benchlands
Located directly above the Upper Village, we love this spot for effortless access to Blackcomb Mountain. The Upper Village has a quiet, family friendly atmosphere. Walk from your unit to the Upper Village on Sundays to enjoy the bustling Farmers Market before catching the Blackcomb Gondola up the mountain for sightseeing. If you want to see more outside of the Upper Village, getting to the Main Village is simple with free transit provided by the municipality of Whistler. You can also easily take a quick walk across the village stroll to access the Main Village.
Powderhorn 309 – Sleeping 8, this spacious condo in the Benchlands is perfect for a larger family. There's a common space rooftop hot tub the kids will love. It also comes with all the amenities you'll need to cook at home and enjoy grilling out on the deck in the evenings.
Glacier Lodge 320 – Located right at the Blackcomb Mountain base, this is ideal for up to 8 family members wanting a stylish, modern Whistler getaway.
Marquise 606 – This unit is a 1300 sq. ft. apartment with stunning views of Sprout and Rainbow Mountain. It is perfect for a family of 6 looking for ample space to relax in.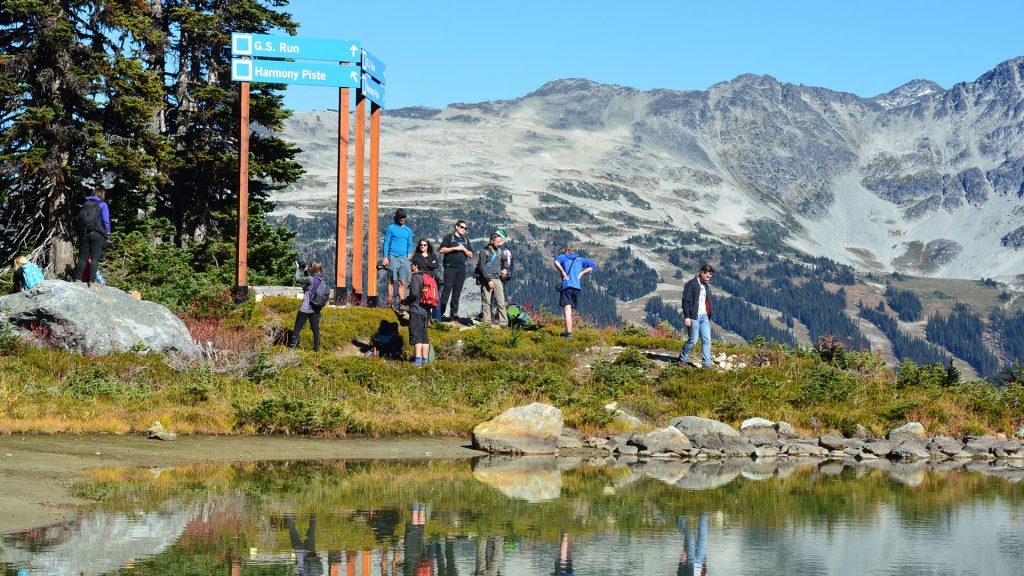 Where to Eat
While all the units we suggested have plenty of space for cooking at home together, sometimes you'll want to leave the cooking to someone else. We've put together a list of our favourites for dining with kids in Whistler. We focused on sharing eateries with healthy options that won't break the bank and are easily accessible from the Main or Upper Village. Here are our top five suggestions:
1. Gone Eatery – Serving breakfast, lunch, and dinner, this is a locals favourite for healthy food on the go. You can also dine-in at their cozy location in the Main Village.
2. Portobellos – Located in the Upper Village, this is an ideal spot for hearty, family style dinners, coffees and pastries to-go, or healthy salads for lunch.
3. The Green Moustache – This cafe is 100% organic, whole food, and plant based. If you're looking for the ultimate superfoods for the kids, this is your spot. Located just outside the Main Village, there is seating on site or you can easily takeaway.
4. La Cantina – Kids craving tacos? La Cantina is another local favourite, and they have two locations in Marketplace and Nesters. Both offer plenty of seating for the family and are modestly priced, Mexican inspired dishes.
5. El Furniture Warehouse – If you're on a budget, but still want to take the kids out for dinner after a day biking or hiking, El Furniture offers a diverse menu, with all items priced at $5.95. It's open for lunch and dinner in the Village.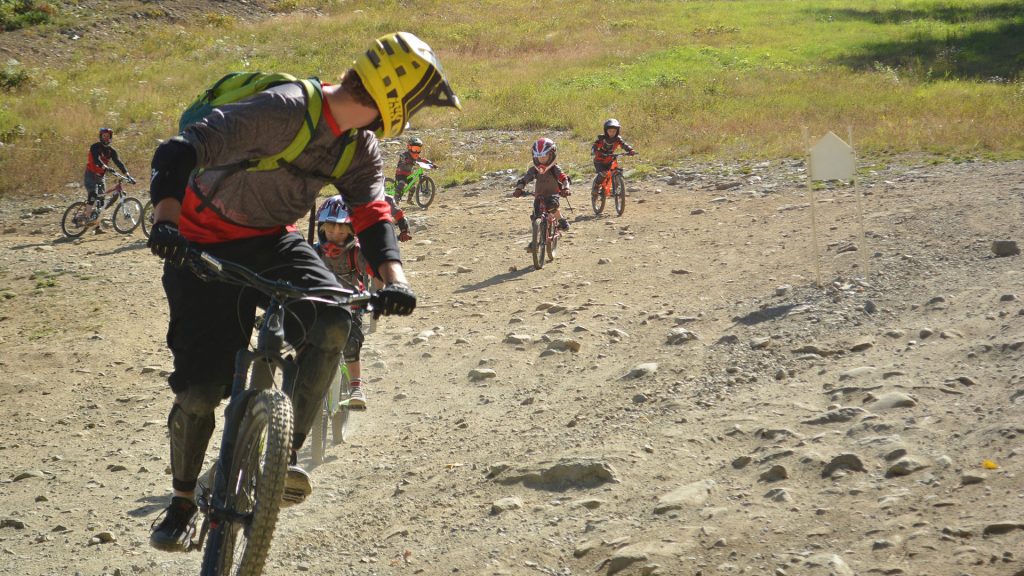 What to Do
Whether your kids are adventurous thrill seekers or too young to be ripping around the mountain on bikes yet, there's plenty to keep them entertained in Whistler all summer long. From riding the gondola to see epic alpine vistas or a chill afternoon on the beach, you'll easily make this their most memorable mountain holiday yet.
DFX Camp – Mountain Biking
The Whistler Mountain Bike Park hosts a series of bike lessons for kids, ages 5 – 16 years old. You can take advantage of a weeklong camp, focusing on Downhill and XC riding (5-14 years old) or sign up for daily lessons (5-16 years old). This is the perfect way for your kids to have an experience they'll never forget, all while advancing their skills on two wheels. You can contact our concierge to learn more about booking the kids in for DFX Camp.
Hiking
There are unlimited ways to explore the mountain by foot in Whistler. Don't let the high peaks dissuade you, as there are plenty of kid friendly hikes. Lost Lake park is a wonderful network of double and singletrack trails, perfect for families wanting to enjoy the lower elevation valley trails. For a high alpine experience, take the Whistler Gondola and try the Spearhead loop to Harmony Lake off of the Roundhouse Lodge. You can learn more about hiking in Whistler in our hiking blog, here. Contact our concierge, and we'd be happy to organize your sightseeing tickets for any of the alpine hikes.
Ziplining or Interpretive Forest Walk
Take an eco-adventure through old growth rainforests on five incredible ziplines criss-crossing the Fitzsimmons Valley. These ziplines are joined by a network of suspension bridges, boardwalks, and trails. For the younger ones, try an informative tree trek through the lush Whistler forest. Whether you opt for sailing through the trees or walking amongst them, this will be an experience the kids will never forget!
Lakes, Beaches, and Parks
Looking for a nice, relaxing afternoon with the family? Enjoy a picnic on the shore of mountain lakes with the family in Whistler. You can play a pick up game of volleyball at Alta Lake Park, take a refreshing swim at Lost Lake, or simply enjoy the beaches and views from the shore. You can learn more about the different lakes and parks in the Whistler area here.
Let us continue to help you plan by booking with us today at www.holidaywhistler.com and take advantage of our concierge services. We can help you secure your perfect vacation rental, as well as set up any activities for you and your family. We even offer special rates when booking your lift passes or bike rentals through us. Specific questions or just want to book over the phone? Call us at 1-877-697-7776.