Hiking in Whistler offers stunning vistas, breathtaking landscapes, and has options for the entire family. Whether you're looking to discover high alpine trails, or meander through old growth forests, Whistler has those and everything in between.
Where to Stay
It's hard to pick a wrong spot to stay in Whistler, particularly with the easy to use local transit system. However, if you're wanting to get the most of your stay and be right next to your preferred hiking destination, we've got the list.
The Benchlands
This location is ideal if hiking valley trails with the entire family is your top item on the agenda. The Benchlands surround the Upper Village and are located near Lost Lake Park. Lost Lake Park boasts of single and double track trails, as well as beautiful vistas of the valley. Most of the trails funnel to the picturesque Lost Lake, which is the perfect setting for a family picnic after a hike. We highly recommend staying at The Woods 23, as it's a 5 minute walk to the lake.
Creekside
The original home of Whistler Village, Creekside is just south of the Main Village. It also happens to be close to a large network of trails, the Cheakamus Trail system. You'll be able to do family friendly walks to the Train Wreck, or head out on a full day excursion to Rainbow Lake Trail. If you're looking for a multi-family vacation rental, we recommend staying at Kadenwood 5. It's the epitome of a spacious, modern, and luxury Whistler home, sleeping 13 people.
Village Main
Whistler's main village is the perfect location for those looking for an alpine hiking experience. You'll even have the option of a lift up the mountain via the Gondola. Simply upload from the Village Gondola up Whistler Mountain to experience high alpine trails, stunning glacial lakes, and breathtaking views. For the ultimate mountain top experience after your hike, you can dine on Blackcomb Mountain at Christine's for classic dishes and a diverse wine list. For a larger family or group wanting to take advantage of all the Village and lifts have to offer, we love Telemark 25. This home is close to the gondola, dining, shopping, and the grocery store.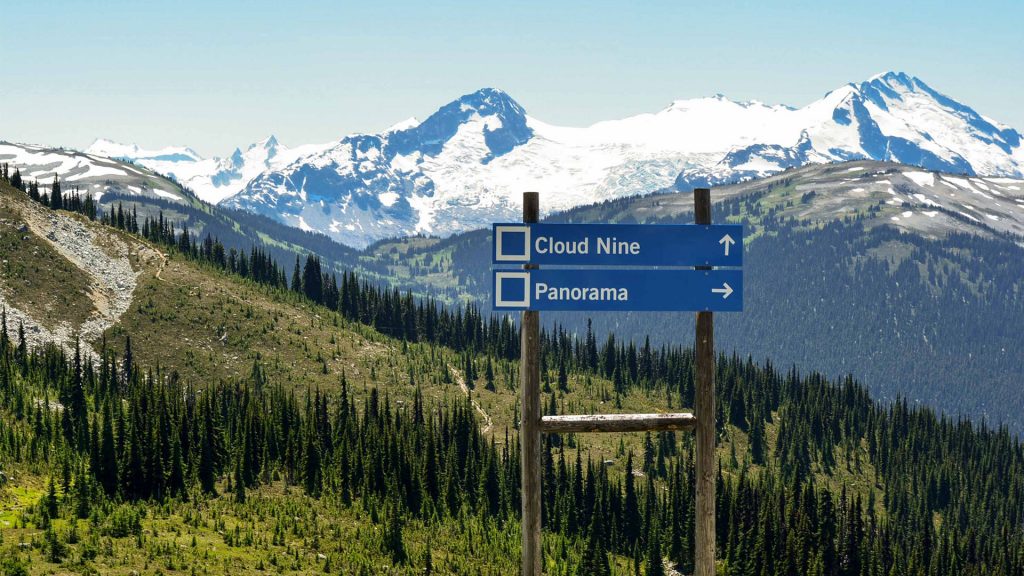 What Trails to Hike and Why
Whether you want a lift up Whistler Mountain via the gondola, or tick off a bucket list hike, we have a variety of awe inspiring hikes to choose from. These are just a few of the many hiking options in Whistler, and you can look here for a more extensive list.
Alpine Hikes from Lifts
If you're looking to take in the most views in your trip, the hikes from Whistler Gondola allow you to get the biggest bang for your buck. Taking an upload from the Gondola allows you to get to the Alpine fast, giving you more time to explore. Here's our top three hikes from the gondi and a link to a more detailed map of these trails:
Whistler Mountain – High Note Trail: Regarded as the best experience on Whistler Mountain, High Note Trail has stunning views of the Black Tusk, Cheakamus Lake, and alpine terrain. Plan for around 4 hours to complete, as this trail is 9.4k and has an elevation change of 420 meters.
Blackcomb Mountain – Lakeside Loop: For a family friendly hike through alpine flowers, we love Lakeside Loop for its shorter distance and views of Blackcomb Lake. Expect a 40 minute hike, perfect for introducing the kids to your favourite pastime.
Blackcomb Mountain – Decker Loop: Dubbed as the best hiking experience on Blackcomb, this is one you'll want to make sure you tick off the list. You'll see stunning views of ancient mountain peaks, Overlord Glacier, and a glacial alpine lake. Only a 75 minute hike, you'll be blown away by all you'll see in such a short amount of time.
Rainbow Lake Trail
Rainbow Lake Trail is a Whistler classic, and one that can be tackled by most anyone. This 5 – 6 hour hike starts near the Creekside area of Whistler, and climbs through diverse ecosystems up Rainbow Mountain. This trail is well maintained and clearly marked, making it one of the more frequently hiked trails in Whistler.
It's an out and back hike (16k round trip), but at the top of this hike, you'll enjoy one of the most beautiful and pristine lakes in Whistler. In our humble opinion, it's completely worth the elevation gain of 850 meters. Make sure you plan extra time to enjoy the lake, as you definitely won't want to leave your camera at home for this one.
Black Tusk
For the ultimate, fully man or woman powered hike, the iconic Black Tusk hike is a bucket list trek. You'll be able to see the massive black spire jutting from the top of a mountain from several different vantage points in Whistler, but if you're up for the challenge, you can climb it yourself. You will definitely want to make sure you're a confident and experienced hiker though, as its 1735 meter elevation gain over 27 kilometers makes for a big day, typically around 11 hours. You can find out more information about this hike here.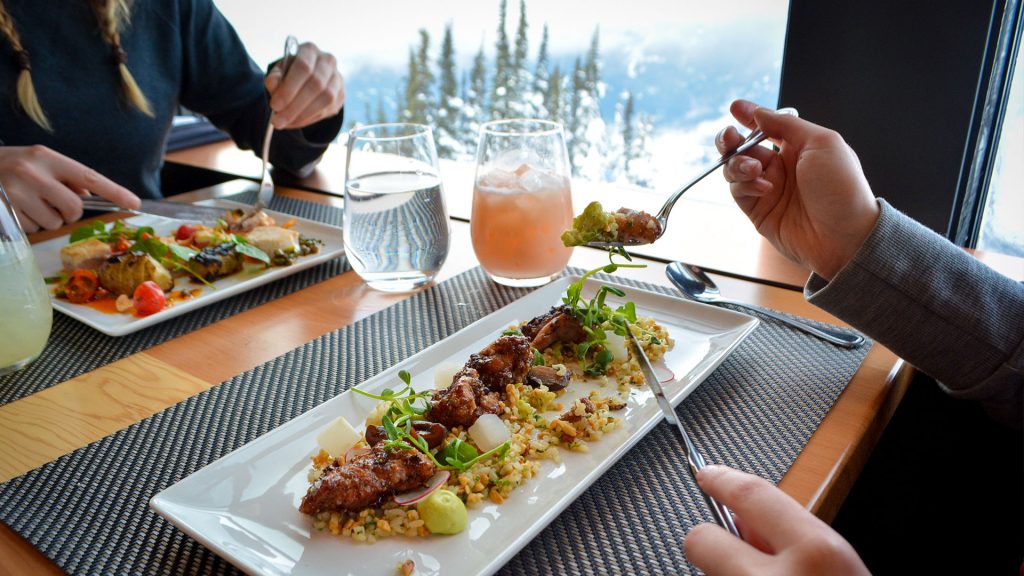 Where to Eat
Looking for the best options to fuel your Whistler hiking getaway? We've come up with our top list to keep your energy levels up. Whether you're wanting to cook at home and food prep, looking to grab food on the go, or want dining out options, we've got you covered.
Grocery Stores for Packed lunches
IGA – Located in the Marketplace Shopping center, this is a central location for Whistler Village accommodations and has everything you need to cook big dinners and packed lunches.
Creekside Market – The Creekside Market is in the center of Creekside Village and had all you'll need to pack healthy lunches and snacks for your hiking adventures.
Nesters – Just north of the Main Village, Nesters is a BC grocery store that includes a pharmacy and wellness center. If you're looking for local brands, health food, and supplements, this is your spot.
Food on the Go
Lift Coffee – Located next to the Whistler Village Gondola, Lift Coffee is one of our favourite coffee shops in Whistler. It also has tasty handhelds, gluten free options, and snacks to take on the go.
Gone Eatery – Gone is a locals favourite for meals on the go or dining in. More substantial options than Lift, it's ideal for those needing to refuel depleted energy levels after a big day on the trails.
Fix Cafe – We love this cafe for those staying in Creekside. Offering gourmet coffees, pastries, sandwiches, and gluten free options, it's perfect for those on the go.
Dine Out
Earls Kitchen – For an urban chic meets mountain lodge vibe, Earls in the Main Village is great for dinner, apres, or appetizers. They also have a large patio overlooking the Village Stroll, ideal for relaxing after a big day hiking.
Portobellos – Craving a hearty, family style dinner after a big day on the trails? Check out Portobellos in the Upper Village (attached to the Fairmont) for delicious cuts of meat, hearty vegetables, or sandwiches big enough to share.
Creekbread– Creekbread in Creekside is known for their natural ingredients, nitrate free meats, and a primitive wood fired oven. The delectable pizzas are definitely a must-have on your trip to Whistler, no matter where you are staying in the village.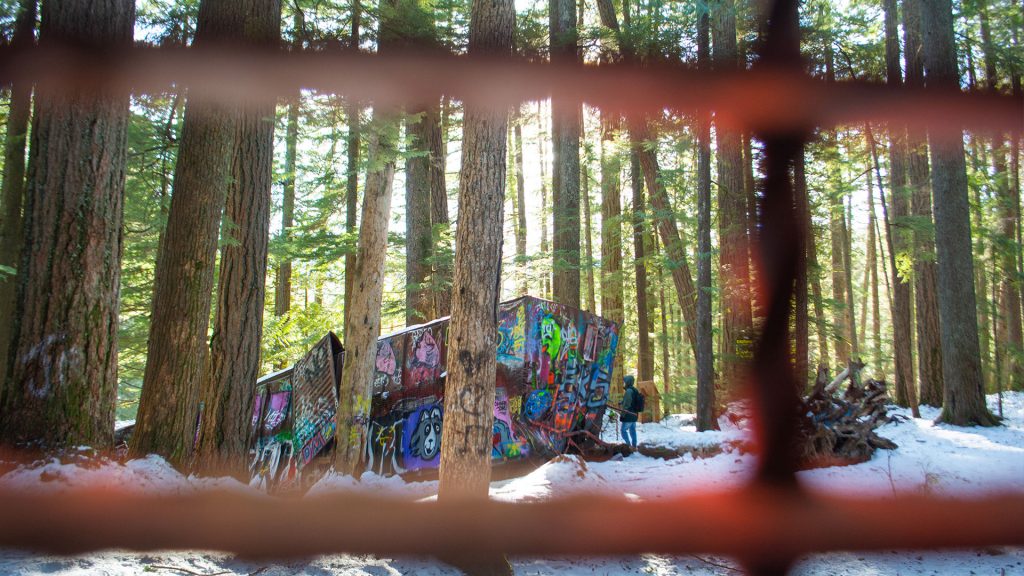 When to Come
Hiking in Whistler during the summer is always spectacular, but depending on what type of trails you want to conquer will dictate the best time of year to come to Whistler. Here's a guide of when you'll most enjoy your desired trails.
Early Season (April & May) – As the snowline is just starting to recede from the Valley, the lower elevation valley trails are the best to explore in the early season. The Valley trails include the Lost Lake Trail network and Cheakamus Trail system earlier mentioned.
June – Take advantage of hiking in June to see the famous snow walls on Whistler Mountain. You'll take Whistler Gondola up to the Peak Chair to access this spectacle. Hiking in shorts and a t-shirt amongst 5 meter high snow walls will feel surreal.
July – Sept – This is the prime time of year to take advantage of the big alpine hikes we've noted, like the Black Tusk and Rainbow Lake. The trails will be mostly clear of snow and filled with stunning alpine flowers and thawed lakes.
We hope this helps you plan your ultimate hiking vacation to Whistler. You can give us a call at 1-604-932-2038 or email us at info@holidaywhistler.com for more details on booking your ideal rental home. We would be happy to help you plan your best vacation yet!