Bike enthusiasts travel from all over the world to get a taste of Whistler's famous bike scene and for good reason. The world class trail system throughout Whistler Valley, Whistler Mountain Bike Park, and the local bike community push the limits and standards of biking. When planning your trip to this massive playground, it's extremely helpful to have a grasp of what part of Whistler you want to stay in. So, as local riders, we've broken down the specific areas of Whistler to give you a better understanding of where to set up for your bike holiday. We've included insight to location, what to do, and where to rent bikes from. As Whistler Mountain biking locals, we wanted to share the insider tips so you get it right the first time.
The Main Village
If you want to be in the heart of it all, consider staying in the Main Village for your Whistler biking getaway. Lift access, restaurants, pubs, and the grocery and liquor store are just minutes away from our rental homes in the Main Village. The Main Village is ideal for those wanting to make the Whistler Mountain Bike Park the focus of their stay. Imagine biking down Whistler Mountain after a full day of park laps, straight to Dubh Linn Gate Irish Pub to share stories of the day over a pint (or two). You can then walk back to your rental home and relax in your private hot tub before going back out for dinner or nightlife. The ease of access to everything in the Main Village is perfect for those not wanting to waste a second of their vacation.
As for bike rentals, there are numerous bike shops in the Main Village, so you won't have a lack of options for downhill rentals. Just let us know your dates for riding, and we would be happy to set up your rentals and bike park passes through our concierge services. We've also put together a list of our favourite accommodations for the Main Village, all within walking distance to the Whistler Mountain Bike Park.
Accommodations
Northern Lights 21: A spacious 4 bedroom home that sleeps 9 and has its own private hot tub. It's located just above the Main Village with quick access to the lifts, restaurants, and pubs, and perfect for those driving to Whistler, as it comes with 2 parking spaces.
Telmark 21: A 3 bedroom home, sleeping 8, with a private garage and a 2-3 minute walk to the lifts. Perfect for a larger group wanting a garage to wrench on their bikes.
Hearthstone Lodge 19: 2 bedroom condo, sleeping 6. It's the perfect village centre condo with a private hot tub.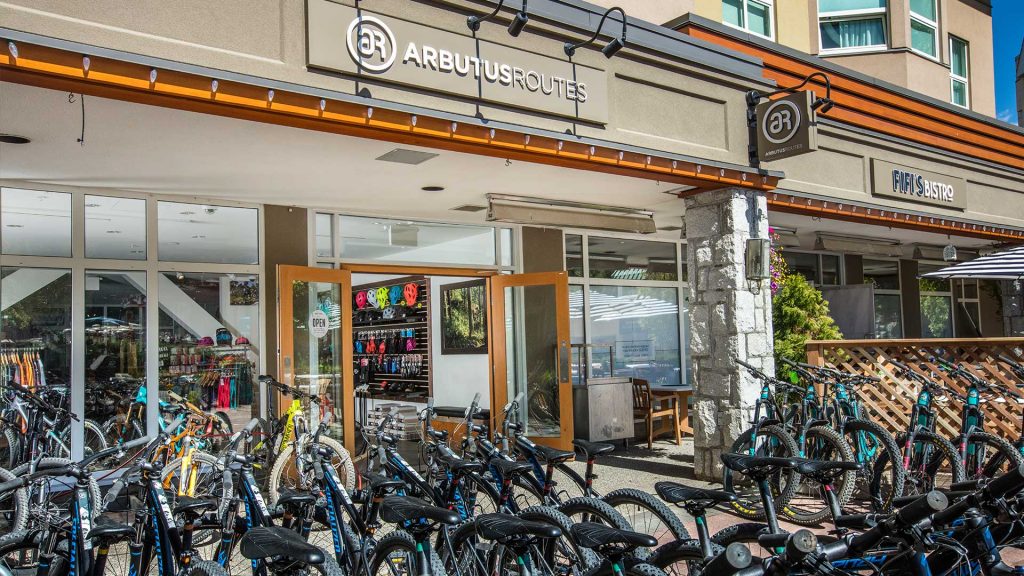 The Benchlands
Staying in the Benchlands is perfect for those who want to enjoy the slightly quieter atmosphere of the Upper Village but still want all the amenities at their fingertips. The Upper Village is within walking distance from our rental homes in the Benchlands, or you can always take the free shuttle if your legs are spent from biking. Homes in this area are generally spacious, and have plenty of room for cooking and relaxing after a big day on the bike. If you're coming to Whistler to focus on trail riding instead of the Bike Park, the Benchlands happen to be at the base of some of the best pedal access trails on Blackcomb Mountain.
The Upper Village also happens to be home to one of our favourite bike shops, Arbutus Routes. Walking distance from your unit, you can easily pick up your bike, take a short pedal to the lifts, and bike home after an exhilarating day lapping the bike park. They're also a great resource for those renting trail bikes, and will be able to help you pick out epic routes for your visit. For après, we love Handlebar or Fitz Pub for beers, snacks, and a casual atmosphere. If you're looking to dine out, Fifi's Bistro is a local's favourite for fresh fare.
Accommodations
Cedar Hollow 11: This 4 bedroom home sleeps 9 people and comes with a single car garage to store all your bikes. It's ideally located just above the Upper Village and extremely close to the Main Village.
Pinnacle Ridge 37: 3 bedroom home, sleeping 10. You can bike down the ski hill, straight to the Upper Village. It also has a single car garage and private hot tub on the deck.
Woods 23: 2 bedroom home, sleeping 6. There's no garage, but does come with a visitor's spot. The community hot tub is nestled amongst the trees, perfect for relaxing after a big day biking Whistler.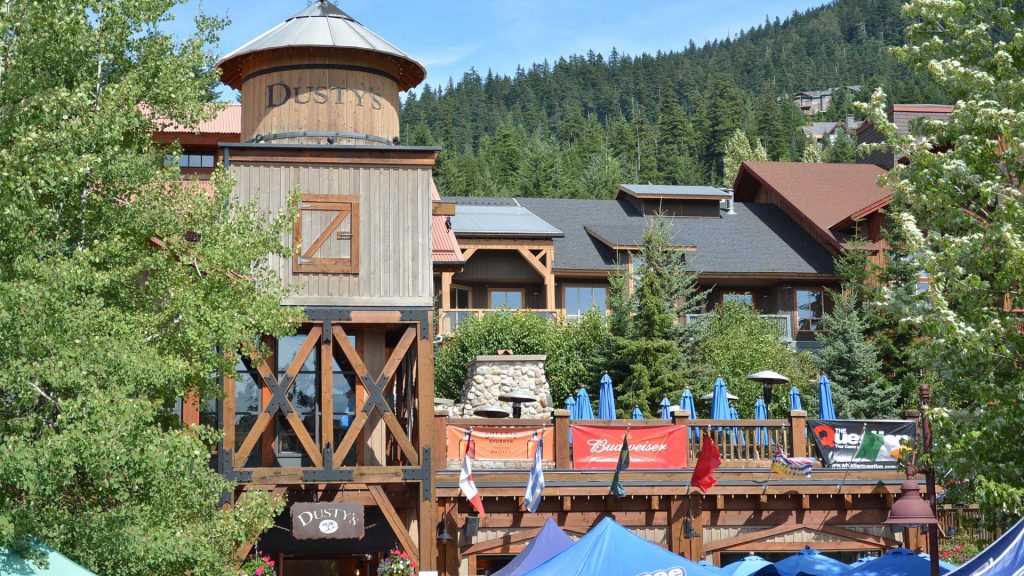 Creekside
With the expansion of Whistler Mountain Bike Park, the Creekside Gondola is now available for bikers in the summer, which makes Creekside another great option for your ultimate bikers getaway. Just south of the Main Village, Creekside Village has everything you need, but with the added benefit of being less busy. You don't even have to worry about going to the Main Village to rent your bike, as Coastal Culture Bike Shop is located in Creekside.
This area has its own grocery and wine store, as well as coffee shops and several places to eat. After a big day on the hill, we love Dusty's for their share-worthy nachos and après. If you're craving an organic wood fired pizza, check out Creekbread for dinner and then head over to Roland's Creekside Pub for beers and a game of darts. Creekside is also just a short drive, bus ride, or pedal to the Main Village in case you want to experience more dining and bar options.
Accommodations
Kadenwood 5: If you have a large group looking to have plenty of space for bikes, sleeping, cooking together, and relaxing, Kadenwood 5 is a dream location. You can even bike down the Whistler Mountain Bike Park trails to the house at the end of the day. Comfortably sleeps 13 and has a private hot tub.
Gondola at Bear Creek 5: Spacious and brightly light 3 bedroom, sleeping 8. It comes with 1 parking space and is slopeside to the Creekside zone of the bike park.
Lake Placid 220: Small group coming to Whistler? Check out this 1 bedroom condo, sleeping 4, with a common area swimming pool and hot tub.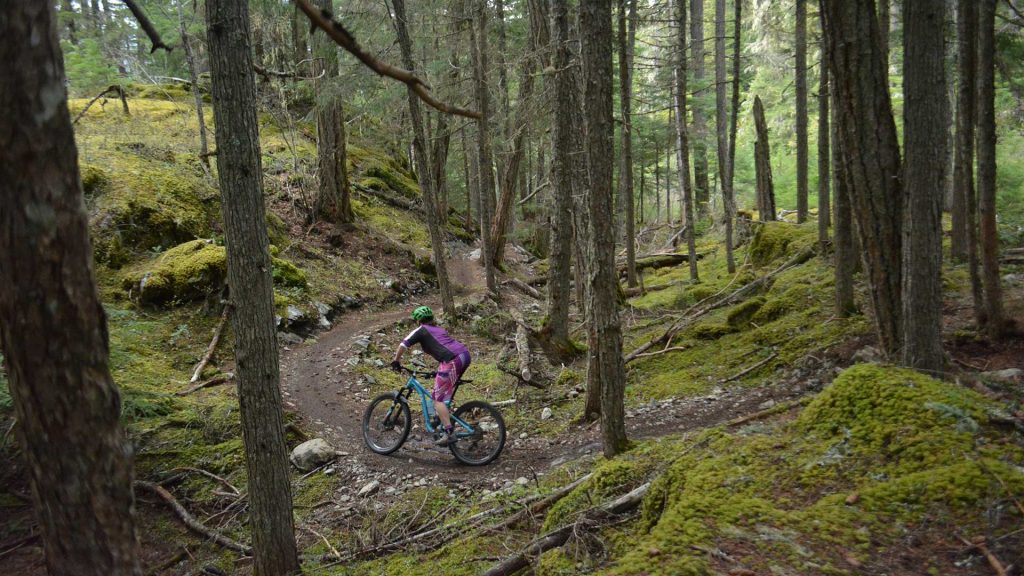 Village North
Just outside of the Main Village, this location provides a quieter experience for those not wanting to be in the bustle of the Village. However, being removed from the Village doesn't mean you won't have easy access to shops or the grocery store, as the IGA Marketplace and BC Liquor Store are just around the corner. For the biker that would rather save money on their Whistler vacation by cooking and entertaining at home, Village North is the perfect spot.
One of the best aspects of Village North is its proximity to the Lost Lake Trail Network, giving you easy access to biking Whistler's large singletrack trail system. It's also a short pedal to the lifts if you're planning on making Whistler Mountain Bike Park the focus of your stay. For bike rentals, The Giant Whistler Store is an easy walk or pedal from your accommodation, making pick-up and drop-off simple. Village North is the perfect area of Whistler for those wanting access to everything without being in the middle of everything.
Accommodations
Fitzsimmons Walk 8: 4 bedroom, sleeping 9. This luxury townhome comes with a double garage, private hot tub, and barbecue. It's perfect for those wanting the ultimate home to come back to after biking Whistler Mountain.
Montebello 40: This 3 bedroom home sleeps 9 and is just a short walk to the bike shop and grocery store. It also has a private hot tub, garage, and gas barbeque.
Northstar 72: This 2 bedroom condo sleeps 6 people. There is a community hot tub, but no parking on site, ideal for those coming to Whistle sans car.
Can't wait to ride the famed trails of Whistler? We would love to help you plan your ultimate biking getaway. Call us at 1-604-932-2038 or email us at info@holidaywhistler.com for information about accommodations, our concierge services, or any other questions you might have.