With all the amazing things to do while you're in Whistler, you're sure to work up an appetite. From hearty breakfasts to fuel your day, to fine dining restaurants that are an experience in themselves, Whistler has no shortage of dining options. Most of our rental units include full kitchens, so you can make meals at home. But if you want to skip the dishes here are some of your best options for dining while in town.
BREAKFAST
The first and arguably most important meal of the day, having a good breakfast will help fuel you for adventure.
GRAB & GO – Moguls Coffee House
The early bird truly does get the worm when adventuring in Whistler. Whether it's for powdery morning ski laps, or fresh groom corduroy while cross country skiing it really does pay to get going early in the morning. A great way to save time is to get your breakfast to go. Moguls has breakfast wraps, sandwiches and pastries you can grab and enjoy in gondola with your morning coffee enroute to adventure.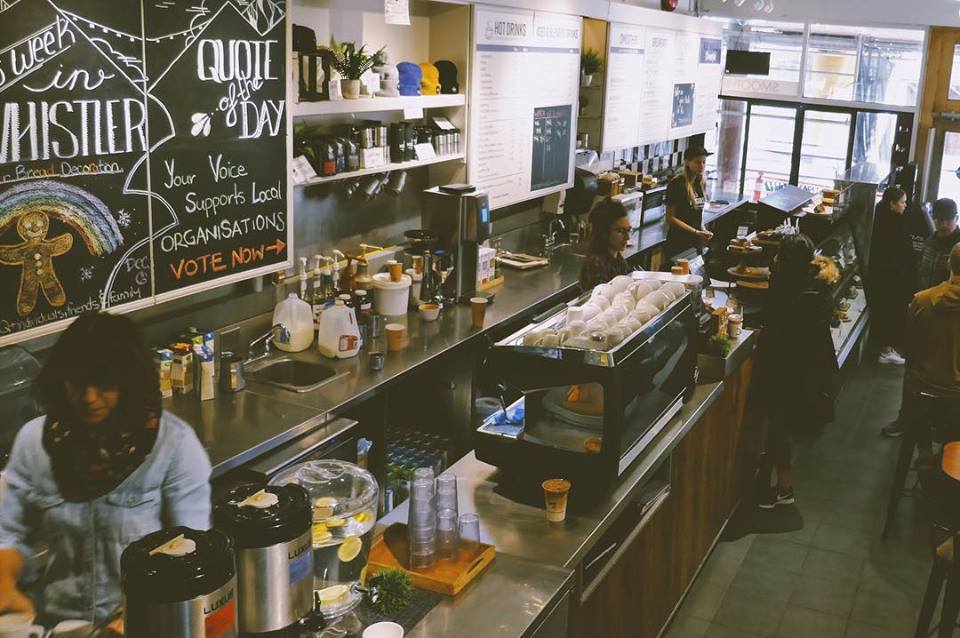 FAMILY FRIENDLY – Wildwood Pacific Bistro – Location: The Crystal Lodge
Locally famous for their eggs benedict, this classic breakfast location serves up large hearty breakfasts that are a hit with the whole family. You can find this restaurant off the lobby in the Crystal Lodge in Whistler Village. They can be pretty busy, especially on weekends, so I recommend going early to avoid the rush.
TREAT YOURSELF – Crystal Hut Waffles
Located at the top of the Crystal Chair on Blackcomb Mountain this cozy log cabin provides the ultimate mountain dining experience. Their large made to order waffles come with heaping toppings of whipped cream, chocolate and strawberries. The only thing that could beat the tasty food is the stellar mountain top views.
UNIQUE EXPERIENCE – Fresh Tracks Mountain Top Breakfast
There is nothing quite like watching the sunrise from a mountain top. With Fresh Tracks Breakfast you not only get an endless breakfast buffet but also early access to the mountain and untracked slopes. Tickets to this breakfast can be used any day of the season, with access given to the first 650 people in line. You can purchase your tickets when you arrive and decide later what morning you want to go up depending on the forecast. Full details and tickets at – Fresh Tracks Mountain Top Breakfast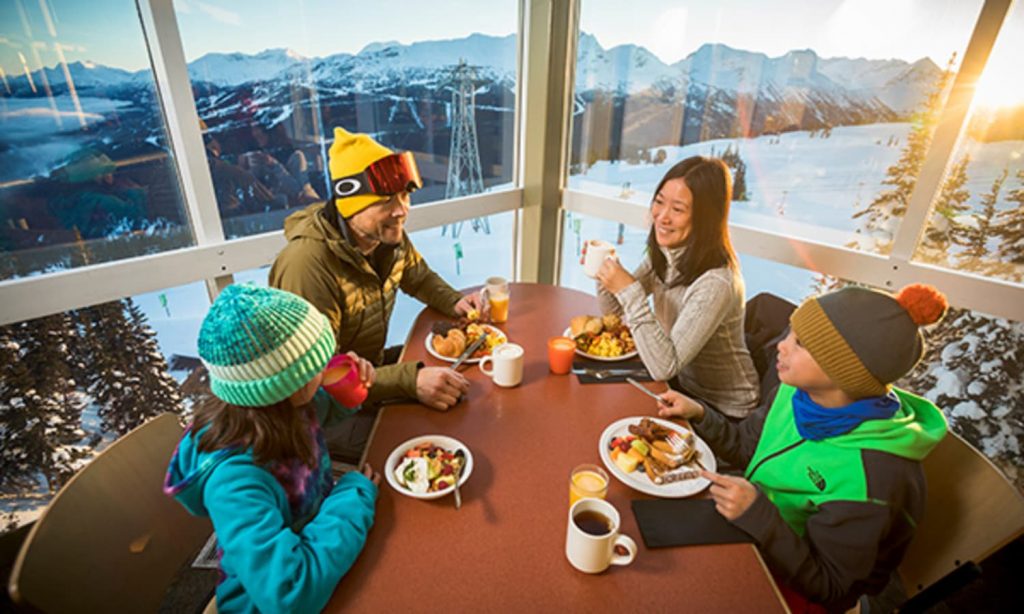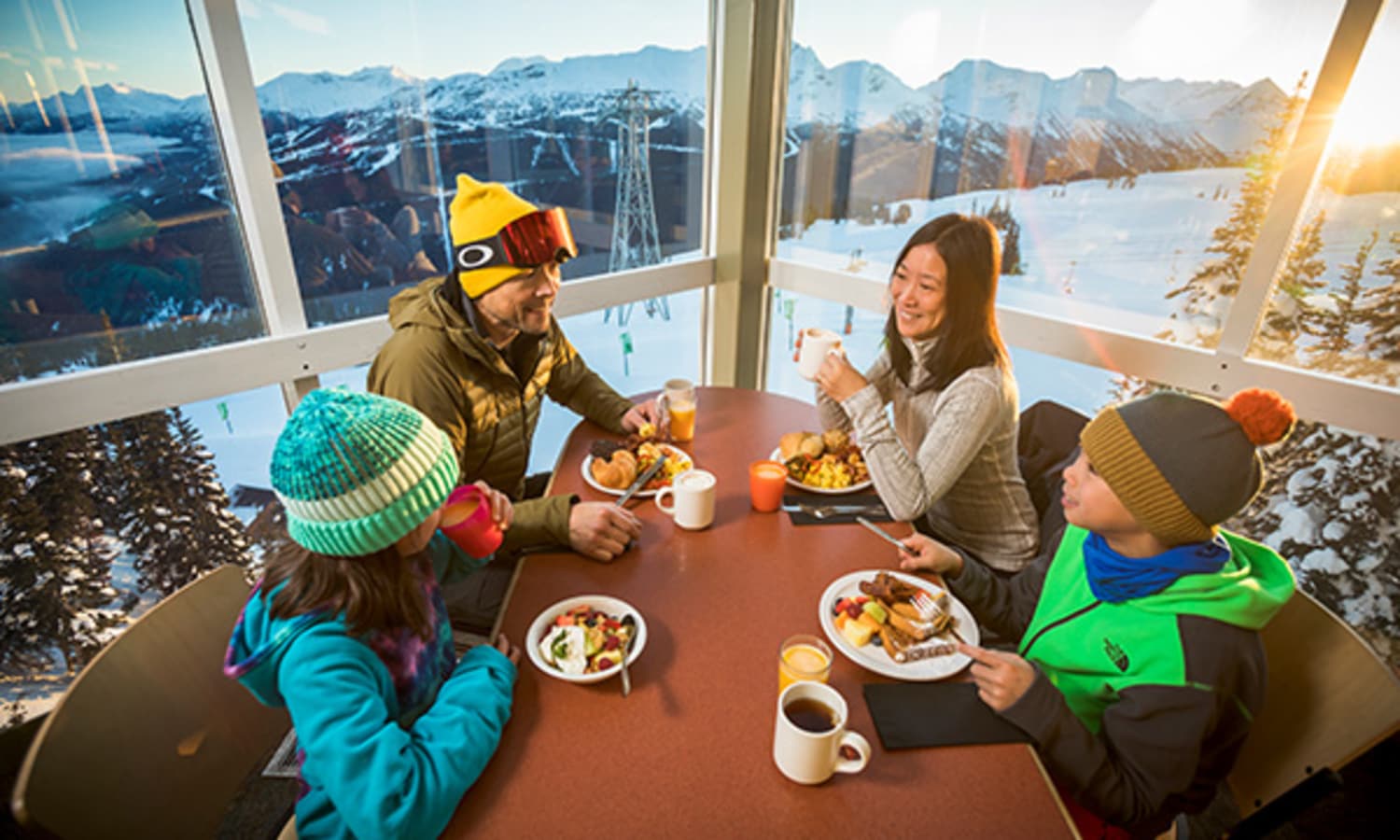 ---
LUNCH
Mid-day and mid-adventure you're going to be looking for a refuel that will keep you going all afternoon long. These lunch options will fill you up without putting you in a mid-day food coma.
GRAB & GO – Ingrid's Village Cafe
This classic café in Whistler Village has been serving up hearty family-style sandwiches for decades. Stop by before your adventure to get your lunch to go and enjoy anywhere from trailside when snowshoeing, to between ski laps mountain top on Whistler or Blackcomb.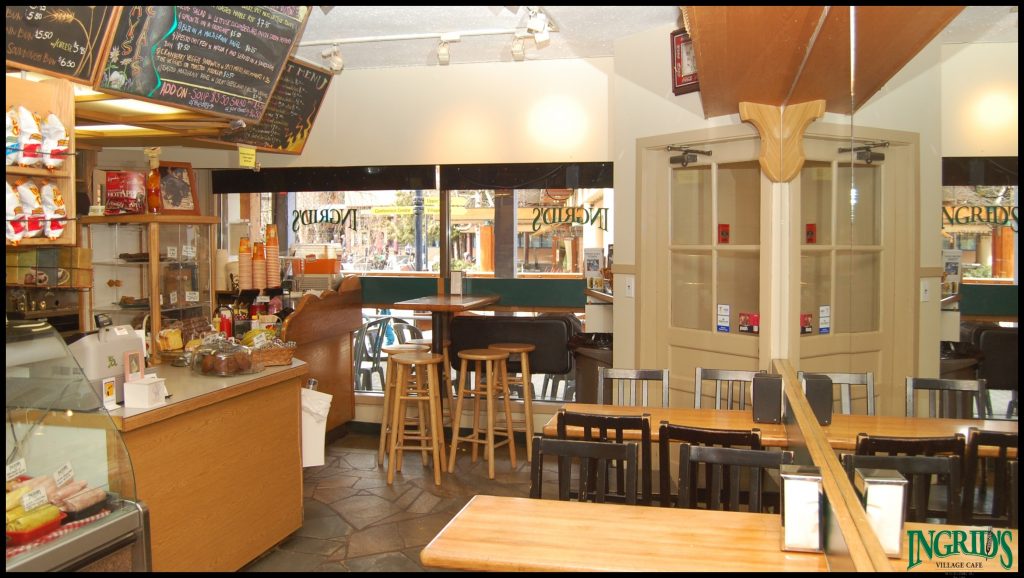 FAMILY FRIENDLY – The Rendezvous Lodge
When out skiing for the day you can take advantage of kids' meals while on the mountain. They are a smaller version of the regular offerings, and each meal also includes a drink, snack and fruit. The snack option is great for saving in your pocket for a mid-afternoon snack when the little ones start to lose energy.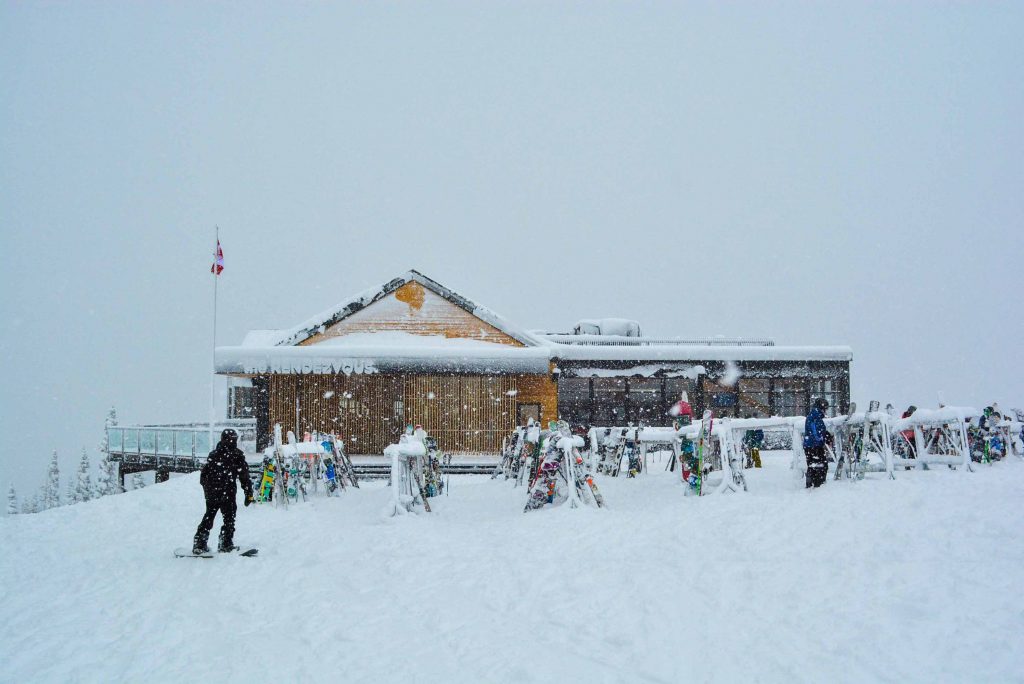 TREAT YOURSELF – Christine's On Blackcomb
For an elevated dining experience while skiing we recommend stopping for lunch at Christine's On Blackcomb. This premium lunch locale boasts mountain top views from the Rendezvous Lodge. Enjoy a full lunch or some appies and bubbles as a break between ski laps.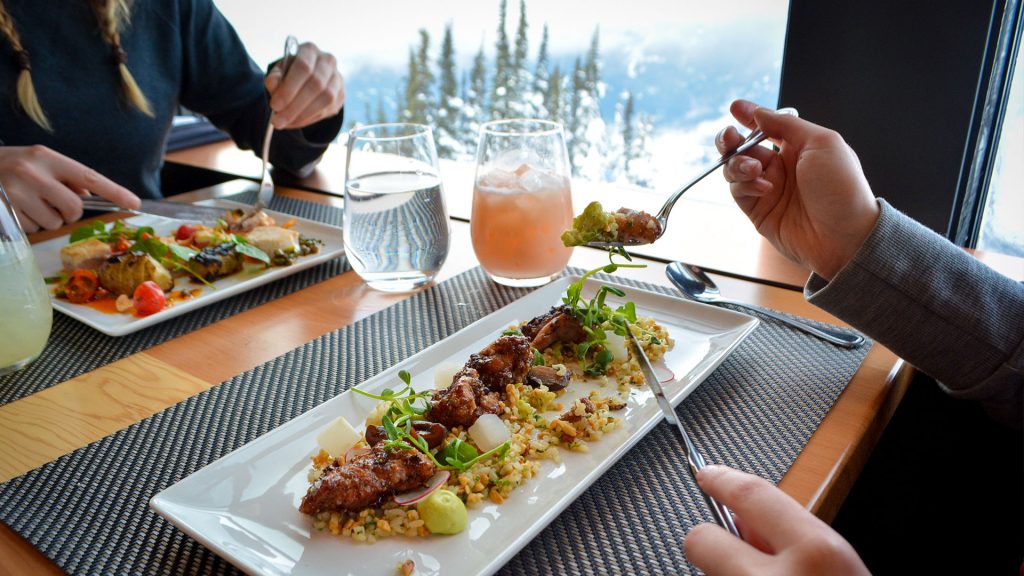 UNIQUE EXPERIENCE – Winemakers Après
Wine and dine at 2000' at these signature winter events. Every event features a different BC winemaker who works with the executive chef at Steeps Grill & Wine Bar to pair multiple courses of decadent food with the perfect wine pairing.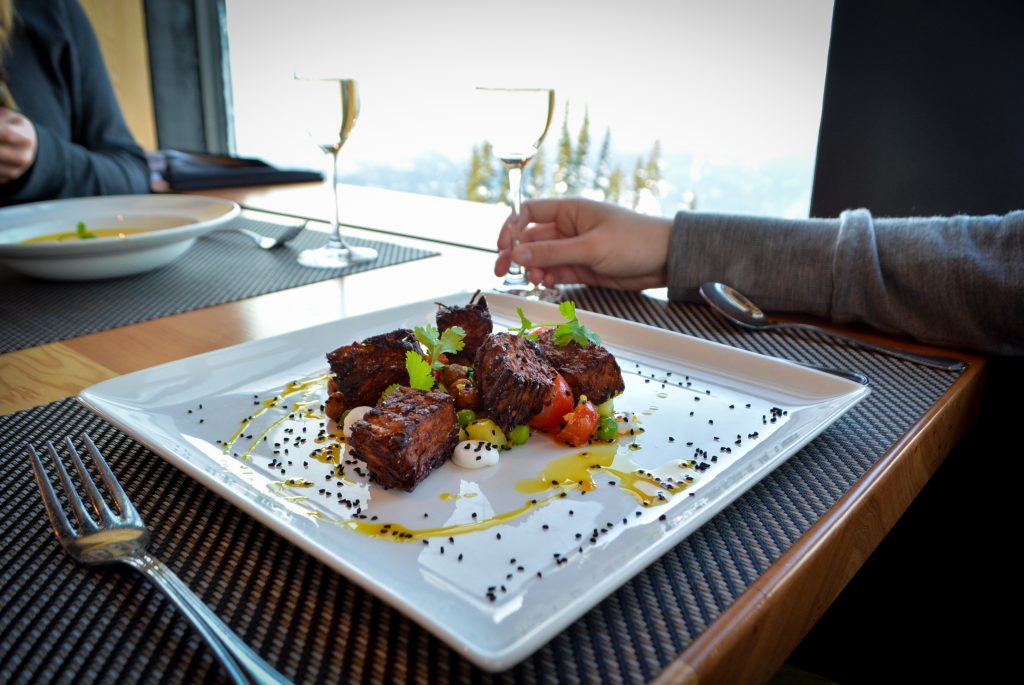 ---
DINNER
More than just a meal, dinners in Whistler are an experience to be savoured. Enjoy a family-style meal delivered right to your rental, or go out for a meal at a world-class restaurant.
GRAB & GO – Whistler Dine In
After a big day of skiing, you may just want to stay in your accommodation and have dinner come to you. Whistler Dine In is a local food delivery service that has partnered with many restaurants in town for take-out delivery. You can view all options and order online at whistlerdinein.com
FAMILY FRIENDLY – The Old Spaghetti Factory
For large, filling, kid-friendly meals it's hard to beat the Old Spaghetti Factory. Every meal comes with bread, soup/salad, main, ice cream and coffee/tea for adults. Their wide range of pasta options has something for even the pickiest eater. Because of their great value, this restaurant is consistently very busy. We recommend calling ahead to make reservations, particularly if you have a large group. (604) 938-1081
TREAT YOURSELF – Red Door Bistro
Tucked away in Creekside, this small bistro is big on flavour. Enjoy an intimate dining experience and delectable French fusion menu. Space in their intimate dining room is very limited so we highly recommend booking your reservations in advance. (604) 962-6262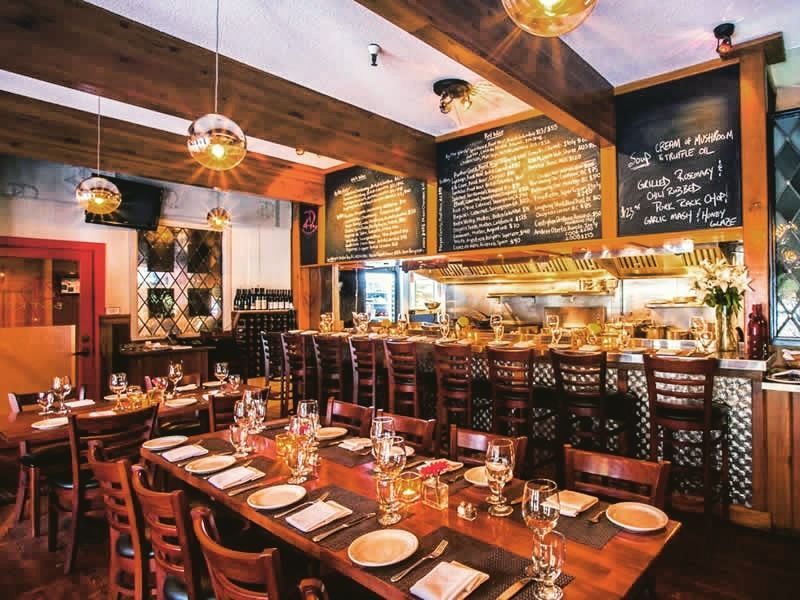 UNIQUE EXPERIENCE – Snowmobile Tour & Steak Dinner
Pairing a unique experience with a phenomenal dinner in a remote location Canadian Wilderness Adventures Sproatt Steak Night by Snowmobile should be on every adventurer's to-do list. Your booking includes transportation from Whistler Village to their picturesque Callaghan Valley base, a thrilling snowmobile tour through old-growth forests, and three-course steak dinner in a remote rustic cabin.
For more information on your dining options while here, or for help making reservations, or concierge team is always here to help. Give us a call anytime at 1-877-697-7776.